Word of the Week: Groundedness
Life Lesson:
An hour and a half before my interview with Laura Bell Bundy—one of the biggest moments in my career—my dad and I got into a heated argument. In a matter of minutes, my state shifted from calm and collected to so-mad-I-was-shaking. Livid, I thought to myself, "Why would he pick a fight with me right before my interview?"
Old me would have either 1) had a meltdown or 2) forced myself to prep for the interview even though I was upset. This time, though, I caught myself before flying down one of the not-so-helpful rabbit holes and decided the best thing I could do was to ground my energy.
Here's how:
Set boundaries and asked my parents not to speak to me or come near my space for the next two hours
Took a shower
Danced
Called my friend and asked her to guide me through an SOS grounding meditation
Lied on the ground, put my hand on my heart and connected to my bigger mission
Set out my fave crystals for calmness, clarity and communication
Smudged myself and my space
Applied a few drops of mandarin essential oil on my wrists
Told myself that my only responsibility on the interview was speak from my heart
Asked my ancestors and Spirit Team to support me and allow me to be a vessel for whatever truths were meant to surface during the conversation
Even though I was still nervous, I got on the live with a clear energy field and a heart that no longer felt heavy and out of sorts from the argument. I stayed present and focused throughout the conversation with Laura and more than anything, I had fun!
This is the work—when real life shit happens and you need to draw everything you've practiced to recalibrate your nervous system in real time. It's never convenient. In fact, I'd argue that the work often pops up in the most inconvenient times. But, that's just the universe saying, "Baby, I know you don't feel ready to do this, but I've got you."
Ask Yourself: What helps me ground my energy when I feel stressed?
Weekly Mantra: Everything I need to recenter is within me.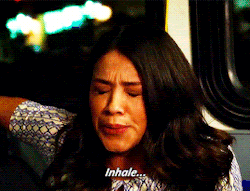 When in Doubt, Jam It Out!
Snapback by Old Dominion (Follow the Spotify playlist "Jam it Out with Elizabeth" to stay up-to-date with the weekly tunes 🎵)
Things I Think You'll Love:
Watch my Instagram Live interview on mental-health, women empowerment and self-love with Laura Bell Bundy who just released her latest song Get It Girl You Go!
Bonus:
Check out my latest on Talkspace "Six Ways to Improve Your Life in Less Than a Week" to learn:
How to practice self-care during the summer months
How to prioritize your mental health
The importance of slowing down and how to do it
The benefits of practicing patience
Wishing you a calm and grounded week ahead!
XO,
Elizabeth